Train your frog to Clap Hands !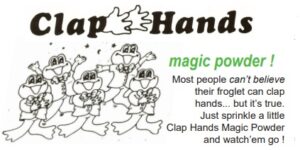 Your frog is NOT a fish!
Yes… it lives its whole life in the water  – and the similarity mostly ends with that fact.
Your Growafrog is MUCH more like YOU !
Growafrogs have arms and hands – just like YOU!
Your Growafrog can 'clap' its hands together.  BRAVO!!!
Simply sprinkle a little of the ALL NATURAL Clap Hands Magic Powder in the water and WATCH YOUR FROG CLAP HANDS!!!
Can a fish do that?
NO WAY!
Frog-et about that ever happening!