Classroom Tadpole Kits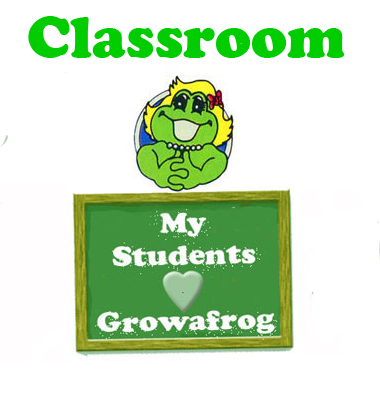 Educator's Choice !
The .pdf version of the Growafrog Lesson Plan by Cindy Gay is available to view or print any time at no charge at all. Simply click the link below: You may use this valuable resource for Growafrog Classroom tadpole kit study!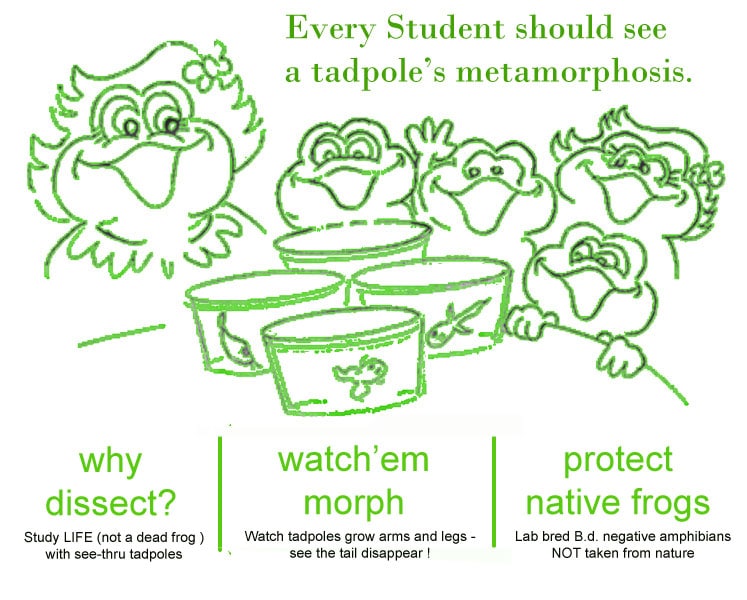 We want teachers K-12 to educate students about the immediate global concern of rapidly declining amphibian populations. We have expanded our facility and are currently breeding remarkable smaller Pipidae frogs threatened in their natural environment.

Our goal is simple. We want students and teachers to learn about amphibian declines 'hands – on' by actually caring for endangered species! We believe by distributing these frogs to as many classrooms as possible that together we quite literally can save a frog (or two) from extinction.
Teachers – You are the reason Growafrog exists. Our company was founded now 43 years ago because Growafrog tadpoles are transparent and captive- bred. We came to the simple conclusion that it is a better biology lesson for students to observe a live tadpole's circulatory system, living heartbeat, and metamorphosis than to (yikes!) dissect a live (or dead) frog.
Sadly, today there is yet another reason to use captive bred B.d. negative amphibians in classrooms – to help protect native frogs and other amphibians from disease. Your Growafrogs are routinely monitored, tested and guaranteed Chytrid-free and B.d. negative. It is a small but necessary step which will hopefully help to ameliorate amphibian declines worldwide. When you study captive-bred, Bd negative, transparent Pipidae tadpole metamorphosis, development and anatomy in classroom you are also allowing native tadpoles and frogs to remain where they need to be – in the pond.
Growafrog.com is dedicated to teachers and stuudents everywhere ! !
We want you to know that:
(a) We will always accept your purchase order by fax, or mail. We encourage your school to order by purchase order if it is convenient for your school resources.
FAX – 352.848.0100
MAILING ADDRESS – Three Rivers Mail Order Corp. P.O. Box 10369 Brooksville, Florida 34603
(b) Your investment in Tadpole Tube Town Castle is good 'forever.' Keep the habitat and when you repeat the unit the following year, we have a 'refill kit' which includes 2 Growafrog see-thru tadpoles plus Stage One Tadpole Food for just 39.95 including shipping. You may order by purchase order, fax or phone, or mail.
(c) Your investment in our Life Cycle Kit is good 'forever.' We have a refill kit for all Life Cycle Kits for just 69.95 including shipping. It includes all of the tadpoles and frogs in all of the stages of development included in all Life Cycle Kits. Keep the habitats and order your refill Kit via school purchase order, fax, phone, or email.
Life Cycle Kit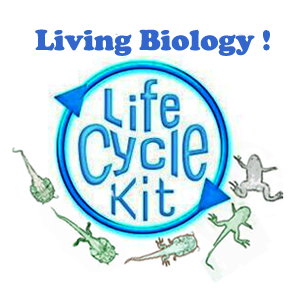 Your Classroom time management is very important! Lessons need to be completed on time! Growafrogs Classroom Tadpole Kits morph very quickly in just 21 days. However, wouldn't it be nice to watch the entire metamorphosis in ONE class period and grow your tadpole into a frog?
Well, no problem!
We PRODULY offer several Classroom Tadpole KIts. GrowaFrog.com is your SOLE SOURCE for Muti staged tadpole metamorphosis kits. Priced right, too!!
Life Cycle Kit – Our most complete kit for education !
Includes 5 stages of development. Young tadpole with no limbs. Tadpole with hind limbs. Front limb tadpole. Metamorphosis 'climax' tadpole stage between tadpole and frog (AMAZING)! Baby frog just post morph.
FIVE habitats with color frame in your choice of color!
Habitat Soil
Eco-dome cover for EACH habitat.
Stage One tadpole Food.
Stage Two Frog Food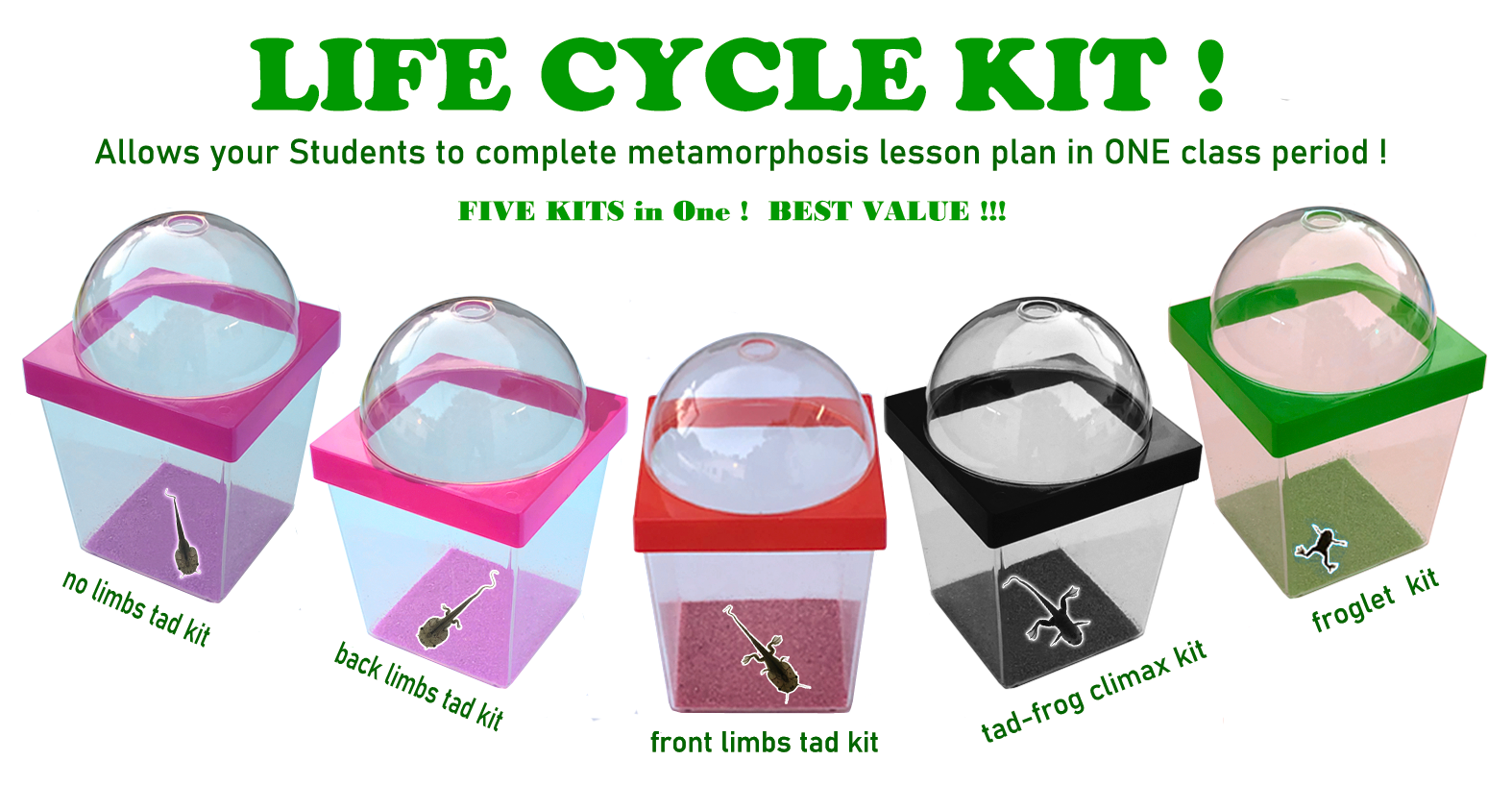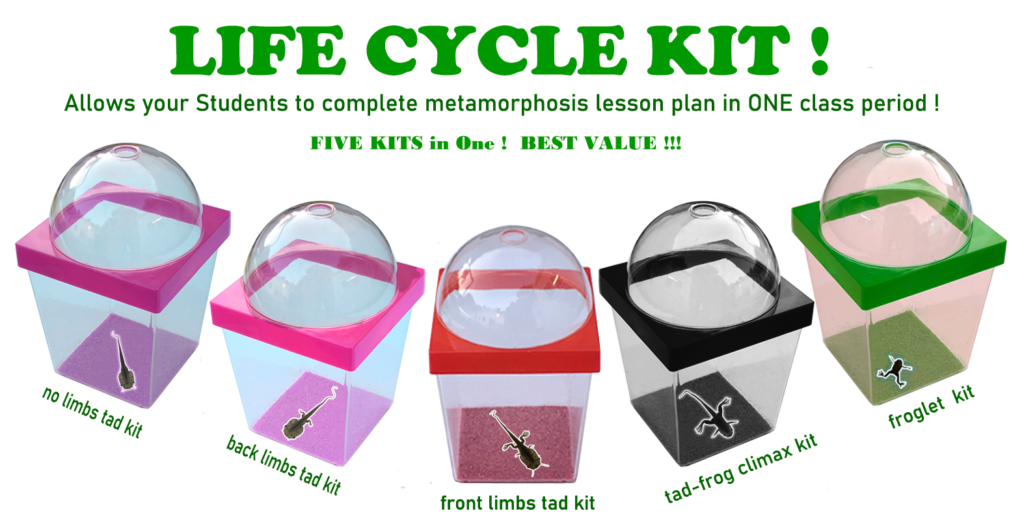 Classroom Tadpole Kits
Front 'n Back deskHOP Kit –
Back limb Grow a Frog Tadpole
Front Limb Grow a Frog Tadpole
Very cool deskHOP Habitat in your color choice with Habitat Soil.
Stage Tone Food
Stage Two Food
Water Crystals
YOUR color choice for YOUR deskHOP Habitat!
Pollywog 'n Frog Kit – tadpole + frog + Habitats !
Pollywog ( tadpole – different name same thing ) w/ hind limbs
Frog just post morph
Tadpole Habitat
Froglet Habitat
Stage One Tadpole Food
Stage Two Frog Food
Habitat Soil
Two Habitats !
Front 'n Back Tube Town – Waaay cool ! View your tads as the swim thru the tube !
Back limb tad
Front limb tad
TUBE TOWN!
Stage One Food
Stage Two Food
Habitat Soil
Your Color Choice!
Froggy School Supplies
Your students LOVE Frogs! Why not 'reward' their curiosity with froggy themed school supplies !
We invite you to check out this large selection of 'priced right; froggy stuff for school at froggifts.com
Pens
Pencils
Memo Pads
Bookmarks
Erasers
MUCH More!